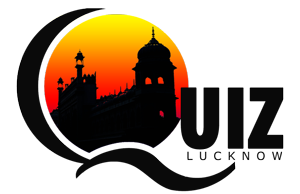 1. This series of weekly and special quiz & contests are open to all the people, except technical Team of LUCKNOW Society and their families and anyone directly or indirectly related with this competition.
2. Entrants must send their entries via a prescribed format through the link provided along with the Quiz Question in order to be eligible. Entries received after the deadline set forth in the contest announcement will be ineligible, null, and void.
3. LUCKNOW Society will not be responsible for and will not consider, incomplete entries.
4. Question will be posted every Friday at 8 PM IST and closing time for entries will be 4 PM IST Saturday.
5. Only one entry per person will be considered for contest entry. Multiple responses would automatically disqualify the contestant's participation from a particular quiz.
6. Exact name & spelling is also required in the answer.
7. LUCKNOW Society is not responsible for entries that are sent to but not received for any reason.
8. The delays or non-receipt of responses / replies from a contestant due to any technical error on part of facebook or any other technical reasons are not subject to challenge towards Lucknow Society and a contestant agrees to the said clause while entering the contest.
9. Winners will be notified via Facebook/Email after winning the competition. If the winner does not respond to the notification within Two (2) days, the winner forfeits the prize.
10. Prize will be distributed weekly / collectively as decided and intimated.
11. Prize has to be collected by the winner in Lucknow as we click & post the photograph of the prize distribution. In case of non-availability of the winner in the city, he / she can nominate someone else to collect the prize but in no case the prize will be couriered.
12. In case of non-receipt of the prize by the winner as per process, the prize will be considered forfeited.
13. In case of any cancellation/forfeiting of the prize, the person next in order will be declared as winner as decided by the LUCKNOW Society
14. LUCKNOW Society reserves the right in its sole and absolute discretion to alter any contest rules at any time. All decision will be final and binding to the participants.
15. By entering a contest, you conclusively are deemed to have agreed to be bound by these contest rules and terms & conditions as well as by any rules specific to such contest. This is an irrevocable condition of entry.